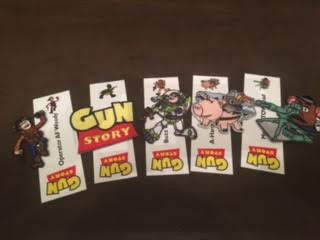 zBookmarks--HD--"Gun Story" set (5)
All of your favorite "Gun Story" characters in one set of five bookmarks. Each measures 2" x 6" and is printed on 80-pound semi-gloss paper. It is adorned with a character on one end and the "Gun Story" logo on the other and is emblazoned with the character's name. 
***Note: morale patches are not included.
Price includes shipping US Mail in a regular envelope with tracking. You save $2.00 over the individual per character price!