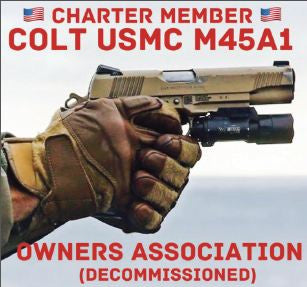 Stickers (Individual)--Colt M45A1 USMC Collectors Association decal
In April 2017, due to cerakote issues on the frames and slides, Colt Defense sold (via Outdoor Liquidators) 1,000 NOS and used M45 Rail guns. These modern 1911s, which had been assigned to the USMC and used in Marine Special Operations Battalions in Iraq, Afghanistan, Africa, and Training schools, were the first military issued pistols sold to the public since the 1960s creating a truly historic event.
Buyers and traders of the originally released firearms are considered Charter Members of the M45A1 Owners Association. Display your decal proudly on your safe, Pelican case, or windshield.
Price is per decal and includes shipping in a #10 envelope to CONUS.
***Note: also available as a part of the five decal M45A1 sticker pack in the store